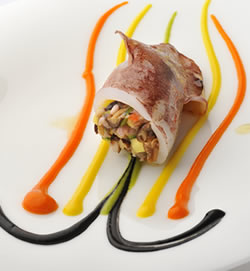 Dear Guests,

In the Sant Pau Tokyo the celebration of the 30th anniversary of the Sant Pau in Sant Pol de Mar is the inspiration for our September gastronomic menu.
For you to fully appreciate the joy of the culture of Catalan cuisine, as always, both fresh and modern, such as Romesco, dewlap and Padrón peppers, Fricandó or mató with honey.

*Catalan
El menú gastronòmic de setembre, al Sant Pau de Tokyo, és inspirat en els 30 anys del Sant Pau de Sant Pol de Mar. Gaudireu de cultura culinària catalana, com sempre natural i moderna, com ara : Romesco, gorgil i pebrotets del Padrón, Fricandó o mel i mató.

*Spanish
El menú gastronómico de septiembre, en el Sant Pau de Tokio, está inspirado en los 30 años del Sant Pau de Sant Pol de Mar. Disfrutarán de cultura culinaria catalana, como siempre natural y moderna, tales como: Romesco, papada y pimientos del padrón, Fricandó o miel y requesón.
Carme Ruscalleda